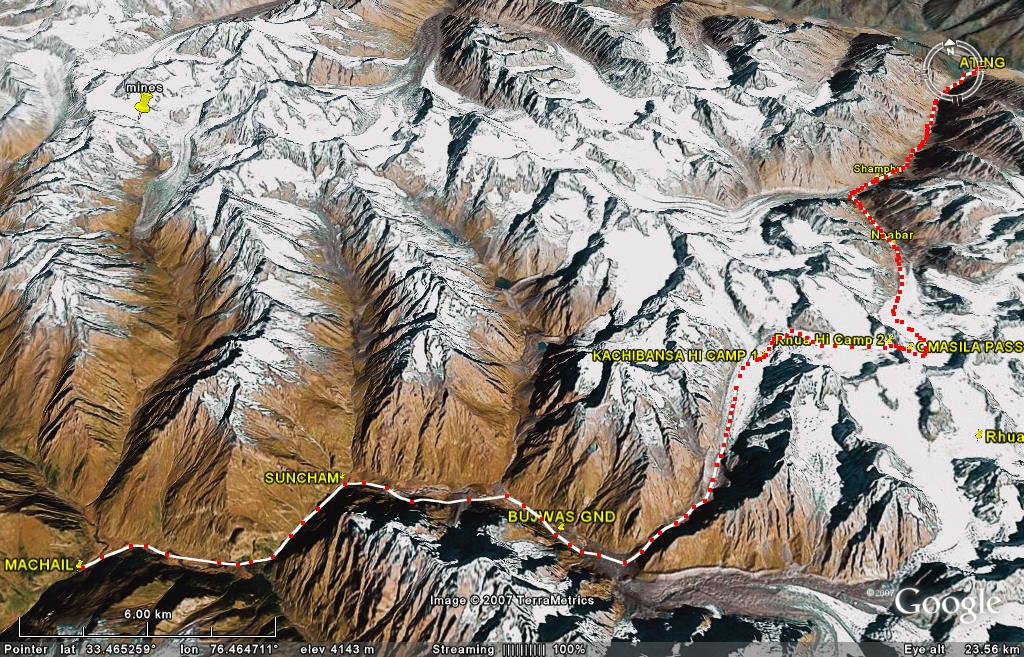 Bhaderwah being a mountainous valley posses tremendous potential for adventure seekers . The destination is identified as ideal paragliding spots, snow skiing slopes, Mountaineering and trekking expeditions besides cross country car & motorbike rallies also opportunities for sports like mountain biking are ample on the high altitude meadows on the periphery of Bhaderwah.
Seoj meadow ( 11000 fts) for Basic and intermediate flyers.
Padri and Bal Padri ( 10000 fts)
Gurdanda , Sonbain (7000, 8000 fts ) Khanitop , Thuba, for advance and cross country flyers.
Chinta and Jai valley (6000fts) for basic and training all these spots have a favorable climate and ambience for paragliding and are easily accessible and convenient for making the logistic arrangement. Paragliding is the special attraction of the hilly tourist destination & feasible through out the year except wet season.
Bhaderwah is endowed with spots like Sonbain glacier on Ashapati mountain at an elevation of 7000-8000 fts where snow never melts and is adjoining the habitation of "Thanalla" village .The high altitude meadows of Padri & Padri Gali is connected by mortrable Bhaderwah Chamba road and is 30 km from the main town. The slopes of Padri remain covered with snow from Nov. to June and are most suitable for snow skiing for beginners a well as experts. These are equivalent to competition slopes of Gulmarg Kashmir and are easily accessible. Another tourism spot namely 'Chinta' is fit for conducting training courses in Snow Skiing and is connected by a defense road and has adequate accommodation facilities and food.
Mountaineering, Trekking & Camping
The mountains surrounding Bhaderwah town have gentle slope and are covered with Deodar tree, interspersed with large meadows. Bhaderwahi culture has essential gradient of performing Yatras by taking trek to these meadows and mountain lakes, e.g. Kailash Yatra from Bhaderwah to 'Kailash Kund' on 'Kaplas' mountain via meadow of Seoj.
The treks are easy and do not requird any special health qualification for undertaking trekking activity. The climate is suitable as high altitude meadows which are grazing grounds of milch animals of 'Gaujjars' coming from plains. Some of the favourite and fascinating trekking routs are:-
Bhaderwah to Seoj to Kailash Kund to Nalthi Village via Ramtund. The route is 30 Km to be completed in 3 days and 2 nights requiring night halt at Seoj and Ramtund.
Hanga or Manthala village to Dev- Chattar – Chilli ( Kelaar ) to Khillanni village (75 Km) to be completed in 4 Days & 3 Nights & Passes through thick forest unexplored virgin flora of Pir panjal ranges Camping to be at Dev Chattar . meadow & Chilli Village .
Jai – Bach Dhar to Padri to Thanalla village (30 Km) 2 days and 2 nights with camping at Bach Dhar & Padri meadow . murmuring streams draining thick black forests routs in endemic flora and fauna.
Chinta- Roushera to Sbhardar to Ghati Moar (25-30 km) to be complete in 2 day s and one night with halt at Sbhardhar meadow .
Sarithal- ( on Bhaderwah – Basoli road) to Padri via Ashapati mountain two days and one night poses challenges to rock climbers and expert trekkers. Besides above world famous 'sapphire trek' taking off from Paddar to Zanskar in Ladakh in the historical route used by military General Zorawar Singh to invade Ladakh and Tibet.
Being a mountains , region with texture of Pir Panjal' range of Himalayas , Bhaderwah has many ideal sites for beginners and expert rock climber. For learners , the steal bridges, small rocks are in abundance to practice and learn rock craft skills. However for exports big rock surfaces on the banks of 'Kalgoni stream' and in Paddar region possess challenge and thrill yet to be experienced. Moreover, tourism authority is constructing an Artificial Rock wall for holding competition and training of adventure seekers .
The snow clad mountains provide sufficient water in the month of May to September to carry out activity of kayoking & white water rafting in the 'Neeru' and 'Dondi' streams. In winter month i.e Nov to Feb the water level in the mighty river Chenab squeeze to its minimum and in the selected portion is Thatri to Puldoda (25Km­ ) and Chanderkot to Seri Ramban (8Km) are suitable for river rafting. Both these portion of 'Chenab' are along the National high ways and therefore to erect the logistics to carry out this thrilling & challenging Adventure sports activity is easy.
The easy mountainous treks hill roads and undulating meadow are quite suitable for performing the adventure sport of mountain biking. This is one of the new introduction to Bhaderwah destination and is poised to gain instant popularity in this new virgin hill tourist resort .
One of the favored activity of the visitor from plains is 'fishing'. The cold water streams on the gentle slopes of hills of Bhaderwah contains tasty 'Trout' fish and the activity can be supported at all the tourist spots of Bhaderwah. This is a common hobby of the hill people & is quite popular in Bhadarwah Department of fisheries has a full-fledged fish farm along with a hatchery at village Gatha Bhaderwah to support the angling activity at this tourist destination .